2017 Honoree
TWIN COUNTY AIR & AG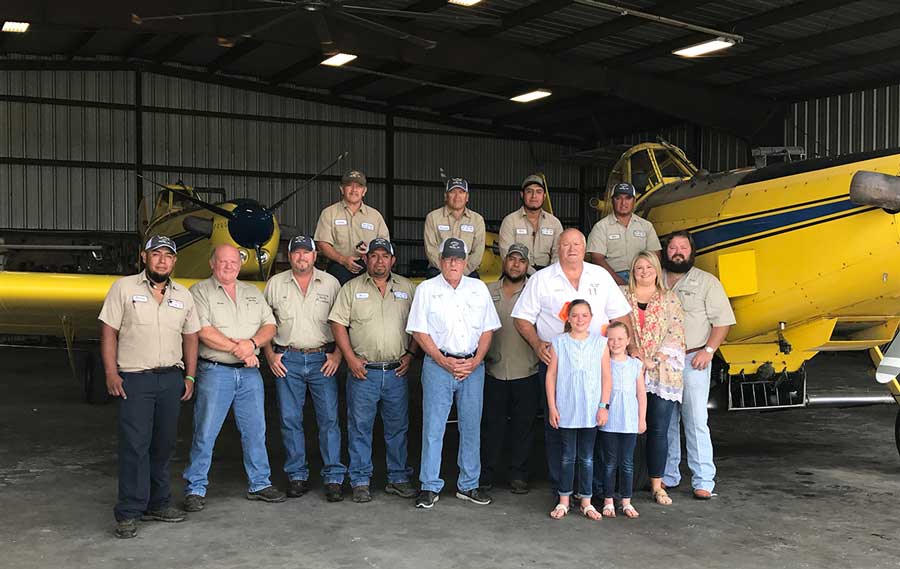 Twin County Air & Ag
Jeffery Leger was born on May 21,1953 in Beaumont, Texas. He is one of the eight children born to Jane Latta Leger and the late Weldon Leger of China, Texas. In 1972 he graduated from Hardin Jefferson High School.
As a young boy, Jeffery and his brother worked on the farm helping his father and he would watch the bi-planes fly over his father's rice fields and dream about becoming a Crop Duster. At the age of 15 his father took him to M & M Air Service and asked if they could put him to work, from flagging in the fields to working in the wing room, he spent the next few years learning the ropes of the Agricultural Business. After graduating high school, he and his best friend, Ricky Schroeder, quickly took off for flying school at Ed Boardman in Ft. Worth, Texas. Jeffery returned home where he started his first flying season in the Spring of 1973. After 10 seasons of flying for M & M, he left to go work for Coastal Air Ag in Anahuac, where he started working more toward the Chambers County area, then moving on to briefly help Jet Ag in Winnie, he was flying for Gulf Coast Flying Service when he realized that no matter where he flew the farmers he flew for had always moved with him.
It was then, in 1991, when Jeffery bought his first airplane, and partnered with four local rice farmers, Ronald and David Murrell, and Larry and Buddy Devillier, and broke ground as Twin County Air-Ag., Inc. In 1993, Jeffery took a bigger step and bought out his partners. In 1997, with business growing, Jeffery purchased a second airplane, in 2000 he purchased his third airplane, and in 2011 he purchased his fourth airplane. A thriving business takes many hard working people behind the scenes, and Jeffery is lucky to have his two sons, Jeff and Adam as Officers of the Corporation. The current pilots alongside Jeffery are his son Jeff, Dwayne Williams, and Joel Martin. Former pilots that have made a huge impact on the company are Glenn Menard, who retired in 2013, and Ricky Schroeder, who passed away earlier this year. The company is also blessed with some of the most dedicated men, Mauro Diaz, Beto Diaz, Arturo Castillo, Rolando Castillo, Armando Gonzalez, Raul Diaz, and Zefe Diaz, who all work tirelessly in the long, hot days of summer, to help get the job done. None of these men would know where they were going each day without the work of the Office Manager, Ashley Leger, Adam's wife. It was once said, by another Ag Pilot, who worked alongside the guys that "he never worked so hard or laughed so much," and that is a great testimony to this group who both love and appreciate their customers and friends, The American Farmer.
Jeffery has three children, Jeff, Amanda, and Adam. Jeff and his wife Tiayali reside in China, with their daughters Kalyne and Victoria, Amanda and her husband Joe reside in Sour Lake, with their children Brenton and Khloe, and Adam and his wife Ashley reside in China with their daughters Summer and Payton.
The hard work and dedication of Jeffery has never gone unnoticed, in 2006 The Winnie Area Chamber of Commerce recognized Twin County Air-Ag. with The Outstanding Agricultural Award, in 2014 Jeffery received the award for Outstanding Operator, presented by the Texas Agricultural Aviation Association, and in 2016 The Southeast Texas Independent Cattleman's Association recognized Twin County with the Agri-Business Award. It is an honor and Jeffery was humbled to receive these prestigious awards.
Although his wings are in Winnie, Jeffery and his wife, Lucille, still call China their home, and enjoy it with family and friends.
Twin County Air-Ag. would like to thank The Texas Rice Festival Nominating Committee for the honor of being chosen for the 2017 Honoree of the Year.
Honorees are chosen by the The Texas Rice Festival Nominating Committee.
TRF History