Chairmen & Volunteers
Presidents of TRF
2018 Texas Rice Festival President
Rip Matthews
I am a proud lifelong resident of Southeast Texas. I was born in Beaumont, grew up in Orange, and graduated from Little Cypress-Mauriceville High School. I moved to Winnie in 1993 when I had the good fortune to marry Winnie native Daphne East. Our family includes son, Justin Devillier, 28, and daughter, Shaina Matthews, 20. My parents, Malcolm and Frances, reside in Sour Lake as does my sister Lynette, while my other sister, Marianne, lives in Beaumont.
After graduating from LCM in 1982, I attended Sam Houston State University on a baseball scholarship where our team won the conference championship all four years that I had the honor to pitch for the Bearkats and where I am lucky enough to still hold some pitching records. I also played ball for the Iowa Oaks League with the Chicago Cubs organization.
In 1987, upon graduation from SHSU, I began a career as a Probation Officer with Waller County before moving back to the Golden Triangle to work first for DuPont and then, for the past fifteen years, with XL System/National Oilwell Varco as a Lead Planner.
My volunteer work for the Texas Rice Festival began in 1996 as a Souvenir Booth worker, and, in 1999, I began volunteering with the Stage Crew where I have served as the Chair for the past seven years. In other volunteer work in the community, I have been active managing Little League baseball and softball teams. I have also volunteered for various ECISD booster clubs and am a member of the East Chambers Education Foundation.
I want to thank everyone for their hard work, volunteer spirit, and example they set for our community. It has been my pleasure to work with so many caring people who make the Texas Rice Festival what it is today. It is my mission to uphold the standard of volunteerism set by those who came before us and set a good example for the next generation of volunteers so that our community and our organization continue to grow and prosper.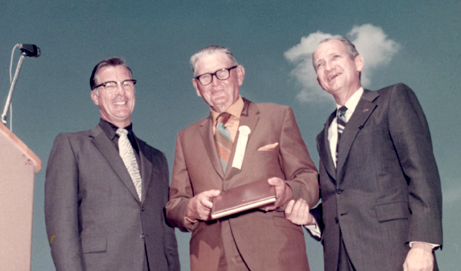 1972 & 1973 Preston Manual
Fannett
1974 & 1975 Melvin Butts
Winnie
1976 & 1977 LeRoy Bauer
Winnie
1978 & 1979 Andy L. Thornton
Winnie
1980 & 1981 Ronnie Girouard
Winnie
1982 & 1983 Kary Kiker
Winnie
1984 & 1985 Tim C. Bauer
Winnie
1986 John Foy
Port Neches
1987 & 1988 Steve Fitzgerald
Winnie
1991 James Gentz, Jr.
Winnie
1993 Larry G. Winzer
Winnie
1995 Arlen Klosterboer
Bryan
1997 Phyllis Girouard
Winnie
1998 David Murrell
Winnie
2000 Carla Thibodeaux
Hamshire
2001 LeRoy McCall, Jr.
Hamshire
2004 Melissa Hodges
Winnie
2005 Lilton Sonnier
Winnie
2006 Sandra Burrell
Fannett
2007 Karen Reneau
Fannett
2008 Reid Lowrance
Winnie
2011 Michael Neuman
Winnie
2013 Sissy Leger
Hamshire
2015 Mike Milligan
Winnie
2016 Reid Lowrance
Winnie
2017 Girlean McCall
Hamshire